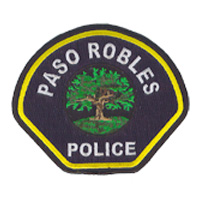 On Saturday, October 26, at approximately 8:05 a.m., the Paso Robles Police Department received a report of animal cruelty at the agriculture barn at the Paso Robles High School.
The reporting party stated his juvenile son is a student at the high school and member of the National FFA Organization. As part of this program, his son houses his 5-month-old steer at the agriculture barn. The reporting party went to the barn to feed the animal and found that it had been burned. The animal suffered significant burn injuries but is expected to survive.

It appears that the unknown suspect(s) entered the barn sometime between 4:30 p.m. on Friday, October 25th and 8:00a.m.on the 26th and set fire to the animal for unknown reasons.

Officers located evidence at the scene which is being analyzed as part of this investigation. Personnel from the SLO County Sheriff's Office Rural Crimes Unit and SLO County Division of Animal Services, along with staff from the Paso Robles Joint Unified School District, assisted with this investigation.

The PRPD is seeking assistance from the public to help solve this crime. If you have any information about this crime or any person(s) involved, you are urged to call Crime Stoppers at (805) 549-STOP (549-7867).