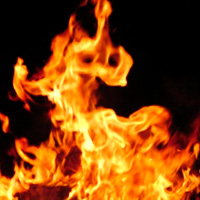 San Luis Obispo City Fire Department personnel responded to a reported structure fire at 65 Stenner Street Unit K (Cedar Creek Condos) in the City of San Luis Obispo at 5:26 pm over the weekend. The first arriving SLO City Fire Department unit found a small kitchen fire in a second floor two bedroom apartment. The 19-year-old female occupant had unsuccessfully attempted to put the oven fire out with a fire extinguisher and the fire began spreading to the kitchen cabinets when SLOFD Engine-2 arrived on scene. The remaining fire was quickly extinguished and overhauled by the first arriving fire department units. Control was achieved within 8 minutes of the initial 9-1-1 call.

The female resident suffered a minor burn to the palm of her hand while attempting to extinguish the fire. She was medically evaluated on scene by fire department paramedics and refused any further treatment.

The property loss/damage to the structure and contents is estimated at $4,000. According to Fire Captain Mike Clinite, the fire started when the resident was cooking chicken in the oven. She attempted to turn the oven off when she realized there was a fire but the oven control valve was broken and did not allow her to shut off the gas. The cause of the fire was accidental. The apartment did have a working smoke detector installed. SLOFD personnel helped clean up the fire damage and arranged for assistance to be provided to the displaced resident by Red Cross.
Shed Fire Under Investigation

On Saturday, August 17, at 4:35 PM, two companies of Paso Robles Firefighters and one Battalion Chief responded to a storage shed fire at 3290 Combine Street in Paso Robles.
Firefighters arriving at scene found a metal clad storage shed in the center of a metal shop storage yard fully involved in fire. The storage shed was filled with automotive and industrial vehicle tires resulting in a thick, black smoke cloud in the area. Firefighters quickly extinguished the fire; no other property in the storage yard was damaged.
There were no firefighter injuries. The cause of the fire is currently under investigation by Department of Emergency Services fire investigators.