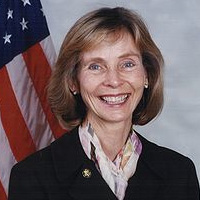 Rep. Lois Capps (CA-24), along with many of her colleagues, yesterday demanded that the House of Representatives vote on a comprehensive immigration reform bill by signing a discharge petition on H.R. 15, the bipartisan Border Security, Economic Opportunity, and Immigration Modernization Act.
A near identical bill passed the Senate in June with extensive bipartisan support. A discharge petition is a procedural exercise that, if it receives 218 votes, can force a vote on the House floor even when it is opposed by the House Majority Leadership. H.R. 15 currently has 199 cosponsors, including three Republicans.
After gathering on the East steps of the U.S. Capitol building yesterday, members—including Capps—proceeded to the House floor to sign the petition.