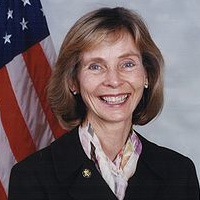 Wednesday, Rep. Lois Capps (CA-24) voted against a fundamentally flawed bill that, instead of addressing the critical need for comprehensive immigration reform, attacks the authority of the President's executive power to help fix our broken system. H.R. 4138, the so-called ENFORCE Act, would enable a majority of one House of Congress to sue the President, heads of federal departments and agencies, and even federal officers and employees whenever they decided that any of those individuals has failed to "take care that the laws be faithfully executed."
Specifically, the House Majority says that a principle reason for the bill is to stop the President's use of executive authority to help "DREAMers" – young people who were brought to the United States as children who either are in or have completed high school or are an honorably discharged veteran.
The Deferred Action for Children Arrivals program, which was created by President Obama in June 2012 through an executive order, protects DREAMers from deportation. "I was heartened by the bipartisan action earlier this year, when both parties in Congress came together to pass the Omnibus budget deal and the 2014 Farm Bill, both important bills for the Central Coast," Capps said. "Those bills are examples of how we can and must work together to find middle ground to address the needs of the nation.