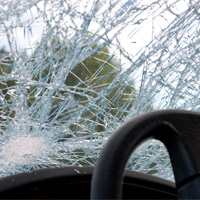 On Saturday, August 03, at approximately 4:30 p.m. the San Luis Obispo Police Department and SLO City Fire responded to the intersection of Santa Rosa and Monterey for the report of a two-vehicle collision with airbag deployment.

Upon arrival officers discovered a silver Honda Odyssey minivan and a black Cadillac CTS had been involved in the collision. SLO City Fire and San Luis Ambulance personnel attended to the driver of the minivan, a female adult, who sustained a laceration to her upper left arm. The minivan was also occupied by 4 children who were uninjured in the collision.
The investigation revealed that 25-year-old Colton Porter was southbound on Santa Rosa in the black Cadillac approaching Monterey, and the minivan was eastbound on Monterey. The minivan entered the intersection on a green light when Porter failed to stop for the red signal and collided with the driver's side of the minivan.
Both vehicles were towed from the scene, and the driver of the minivan was transported to Sierra Vista Regional Medical Center for treatment.
Porter exhibited symptoms of intoxication at the scene and was evaluated for DUI. Porter was ultimately arrested for felony DUI causing injury, and was booked at San Luis Obispo County Jail.