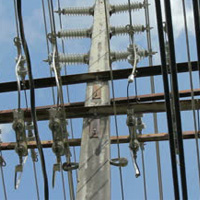 Paso Robles Department of Emergency Services was notified of vehicle fire with entrapment at the intersection of South River and Charlois Roads at 10:00 pm.

Two fire engines and a heavy rescue vehicle were dispatched with a total of seven firefighters and one battalion chief. The first engine arrived at 10:05.The first arriving engine captain reported two power poles down, multiple electrical lines down on the car and in the area, car on fire, and driver trapped and yelling for help.

Dispatch reported an estimated fifteen minute response for PG&E to cut the electricity. The first arriving fire engine captain elected to begin extinguishment and driver extrication, in spite of the hazard to firefighters. Crews worked for ten minutes to accomplish this.

The sixteen year old driver was extricated from the vehicle and was taken to Sierra Vista Hospital due to the nature and severity of his injuries. Crews then waited for the arrival of PG&E to cut the power before completing vehicle fire extinguishment.

Power to the area is expected to be restored this morning.