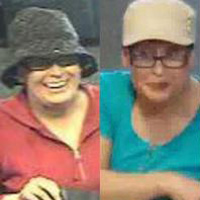 The Central Coast Bandit suspect has been charged with nine counts of second degree burglary and robbery and two counts of attempted robbery and expected to be in court today to enter a plea.

Fifty-year-old Cristina Padilla of Watsonville was arrested Friday night after a woman resembling the bank robber known as the Central Coast Bandit was seen at a bank in San Luis Obispo. Police and the California Highway Patrol followed the woman's car until the chase ended in a crash in Paso Robles.

Padilla was booked on charges for a string of bank robberies on the Central Coast.
She is being held on $290,000 bond.