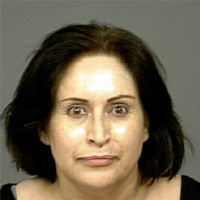 A woman identified as Cristina Fernandez Padilla, 50, of Watsonville, has been arrested for a series of bank robberies along the Central Coast and in Modesto. Dubbed the "Central Coast Bandit," Padilla is believed to be involved in 6 robberies and 1 attempted robbery. The San Luis Obispo County Sheriff's Office announces the conclusion of a multi-agency coordinated effort to capture the "Central Coast Bandit" which culminated Friday, August 23, following a series of events which began in the city of San Luis Obispo. Just before 5:00 PM, a woman matching the description of the "Central Coast Bandit" entered the Golden 1 Credit Union at 852 E. Foothill.
Prior to robbing the bank, the woman was recognized and walked out to a parked vehicle. As she left, the vehicle description and license plate was provided to the San Luis Obispo Police Department, who located the vehicle driving in their city. When officers attempted to stop the vehicle it fled and they pursued it Northbound Highway 101 to the top of the Cuesta Grade. The suspect vehicle was later spotted on Highway 101, still Northbound, by the Atascadero Police Department, who initiated a second pursuit. This pursuit continued through their city, at times leaving Highway 101 and entering surface streets and parking lots. As the vehicle continued Northbound, the California Highway Patrol took over the pursuit, which ended in a collision near 35th and Pine Streets in Paso Robles, after reaching high speeds on surface streets there, including one intentional ramming of a civilian vehicle at an intersection near 24th and Riverside. She was taken into custody.
Following interviews, she was arrested for the robberies committed in Atascadero, Nipomo, Paso Robles and Pismo Beach. She was also arrested for felony evading and assault with a deadly weapon other than a firearm for the pursuit and intentional ramming of a vehicle in the City of Paso Robles. She was booked into the San Luis Obispo County Jail without incident, with bail set at $290,000. Search warrants were prepared and served on Padilla's residence and vehicle in Watsonville, and the vehicle she was driving at the time of her arrest. Additional investigation and follow up interviews are continuing, as well as a review of the entire case for determination of State or Federal prosecution.