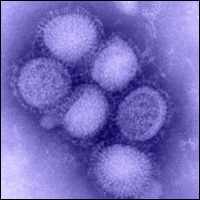 The San Luis Obispo County Sheriff's Office says an inmate has died Rudy Silva, 35, had been diagnosed with the H1N1 flu virus, but the exact cause of death is under investigation by the county coroner's office.
Officials say the inmate was in the ICU at a local hospital when he died yesterday afternoon. According to a press release, he had been in jail since October for a number of charges including possession of stolen property, petty theft and probation violation.
Prior Silva's death, jail staff had already begun taking steps to protect themselves and inmates from the flu by offering flu shots and testing new inmates for the flu virus.