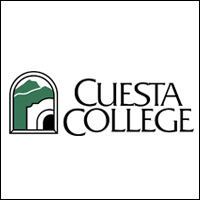 On January 10, 2014, the Accrediting Commission for Community and Junior Colleges (ACCJC), the regional accrediting agency that evaluates two-year colleges in California, took action to remove Cuesta College from warning status and reaffirm its accreditation. In a letter from ACCJC President Barbara A. Beno, the Commission affirms that Cuesta College has provided evidence that it is now in full compliance with all accreditation standards.
"I am extremely pleased with the action announced by the accreditation commission to remove Cuesta College from all sanctions and Reaffirm our accreditation status. I cannot say enough about the commitment of our faculty, staff, administration, students, and Board of Trustees to work together to ensure Cuesta's place at the center of excellence, especially the leadership of Vice President Deborah Wulff and Academic Senate President Dr. Kevin Bontenbal." said Superintendent/President Gil Stork.
"As it has for the past fifty years, Cuesta College will continue to serve the educational needs of all residents of San Luis Obispo County with the level of excellence that they deserve and have come to expect. I can truly say that I am honored to have been given the opportunity to be president of a college community that cares so deeply about its mission to serve the needs of our students."
In February of 2013, the ACCJC placed the school on warning, the least severe level of sanction. In October of 2013, the college submitted a follow-up report to the Commission. An evaluation team visited the campus a month later, and in January of 2014, the 19-member Commission met to decide whether the 'warning' status would be lifted.
The visiting team's Follow-Up Team Report stated: "It is the opinion of the team that the administrators, faculty, staff, students, and supporting community of Cuesta College have engineered a remarkable turnaround that is astonishing in its breadth and depth. To create a cultural shift of this magnitude in an institution the size of Cuesta College is a remarkable feat and should be applauded."