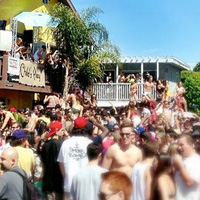 The Santa Barbara County Sheriff's Office is releasing preliminary numbers associated with the massive party called Deltopia on April 5. The crowd at Deltopia in 2013 was estimated between 15,000 and 18,000. According to the Santa Barbara County Sheriff's Office there were between 20,000 and 25,000 in attendance this year, 10,000 more than originally estimated. In 2013, there were 22 arrests but this year there were 130 arrests. There were 116 citations in 2013 which increased to 190 this year.
Arrests and citations resulted from being drunk in public, minor in possession, and open container. According to the sheriff's office, of the 62 people either arrested or cited who claimed a school affiliation this year, 16 people said they were students at UCSB, 10 were from Santa Barbara City College, and 36 said they were from out of town. Desmond Louis Edwards, a 17 year-old from the Los Angeles area, was arrested for hitting a UCSB Police officer in the head with a backpack containing glass liquor bottles causing the officer a head injury.
The Santa Barbara County District Attorney's Office is trying Edwards as an adult on charges of assaulting and resisting a police officer in addition to other charges. A total of 50 people were transported to area hospitals, including four law enforcement personnel. The Sheriff's Office is conducting an investigation to identify individuals who were actively involved. The Sheriff's Office is asking anyone who has video of the incident to email it to video@sbsheriff.org or call Sheriff's Special Investigations Division at 805-681-4175.