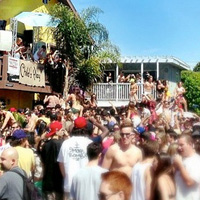 Local law enforcement agencies tried to control unruly crowds at a spring break party in Isla Vista known as Deltopia, which consisted of about fifteen thousand people. On Saturday night at Del Playa, a University of California Santa Barbara Police officer was hit in the head with a backpack that contained large bottles of alcohol. During the arrest, a large crowd threw rocks, bricks and bottles at the UCSB officer. The situation escalated into an emergency situation.
Law enforcement personnel from Santa Barbara and Ventura County had to help the Santa Barbara County Sheriff's Office in gain control of the situation, resulting in the use of chemical agents and less lethal foam projectiles to disperse the crowds. At least five more Sheriff's deputies were injured. One was hit in the face with a brick, and two others were hit in the hand with bottles.
About 26 people were transported to area hospitals. Stop signs were ripped up, several small fires were lit and property was damaged, including several law enforcement vehicles. It took several hours for law enforcement to disperse the crowd and restore order. About 18 people were arrested during the disturbance. Overall, over 100 people were arrested and at least 44 people were transported to the hospital.