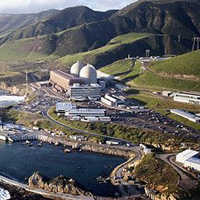 Operators at Pacific Gas and Electric Company's Diablo Canyon Power Plant safely took Unit 1 offline on Sunday, Feb. 9, as part of a scheduled refueling and maintenance outage. During the planned outage full-time and contract workers will replace a portion of the reactor fuel, perform maintenance, and test plant systems and components that are not readily accessible during normal plant operations.
The last refueling and maintenance outage at the facility occurred for Unit 2 during February-March of 2013. That outage was among the safest and most successful in the plant's history as 30 projects were completed in addition to standard maintenance. In all, workers conducted about 1 million hours of inspections, maintenance and equipment upgrades.
Planned refueling outages at Diablo Canyon can bring almost 1,000 temporary workers to the Central Coast where they spend money on local housing, dining and shopping. According to Pismo Beach Chamber of Commerce Chief Executive Officer Peter Candela, these workers are good for business and are often counted on to keep local coffers healthy.
In a typical year, at least one of Diablo Canyon's two reactor units undergo a planned refueling and maintenance outage. However, once every five years both units are refueled in the same year due to their separate operating schedules.
Such an occurrence will take place in 2014 when Unit 2 is refueled this fall. Diablo Canyon Unit 2 is currently operating at full power after a brief outage last week to repair equipment on the non-nuclear side of the plant.