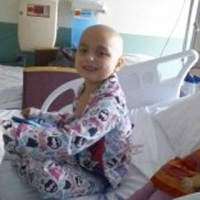 On February 6th, unknown suspects stole a donation jar from Bronco Burger in Paso Robles. The donation jar benefits a young Paso Robles girl, Madelyn Gonzalez, who is battling Leukemia. The stolen donation jar was located in a nearby residential trash receptacle by a concerned citizen and turned over to the Paso Robles Police Department.
The donation jar was returned obviously empty. The donation jar did not have any evidentiary value and there are still no suspect leads at this time. The Paso Robles Police Officers Association members felt it was important to return the jar to its rightful owner, but only after it had been filled with donations made by the members of the PRPOA and Police Department employees.
The PRPOA's motto is "Giving back to those we serve" and hope this donation not only helps with righting a wrong but assist Madelyn and her family with this tough fight. The PRPPOA encourages others to assist in donations with this worthwhile cause. If you would like to help Madelyn and her family, you can make donations to the Golden 1 Credit Union, payable to the Madelyn Gonzalez Fundraising Account.