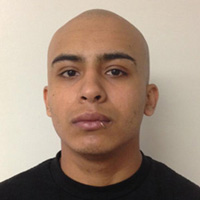 On Friday at approximately 11:00 A.M., detectives from the Special Enforcement Team of the San Luis Obispo Police Department served a search warrant at the 600 block of Felton after an extensive investigation. The suspect, 22-year-old Jonathan Jose Esguerra, was arrested for possession of approximately one pound of heroin packaged for sales, a smaller amount of cocaine, concentrated cannabis, and various pills. Along with the narcotics, $12,500 in cash was recovered and is believed to be proceeds from the sales of heroin. The amount of heroin recovered is worth about $46,000 on the street.

Jonathan Esguerra was booked into SLO County Jail.

Bail was set at $50,000.