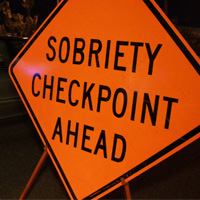 The 2013 Summer/Labor Day Holiday DUI Mobilization crackdown on drinking drivers has ended and resulted in a significant number of DUI arrests from the Sobriety Checkpoints, Special Saturation Patrols and routine patrol in the San Luis Obispo County "AVOID" DUI Campaign for the past 18 days.

From 12:01 AM Friday August 16th, through Midnight Monday September 2, 2013 officers representing 11 county law enforcement agencies have arrested 115 individuals for driving under the influence of alcohol or drugs. For comparison, during the 2012 Winter Mobilization period there were 114 arrests for driving under the influence of alcohol or drugs. Tragically, there were 3 deaths attributed to drunk drivers in our area! There were also 4 persons injured in DUI traffic collisions in our County.

Law enforcement officials will be conducting more Avoid anti DUI efforts throughout the county and region again during Halloween and Thanksgiving Eve before planning for the December Winter Campaign periods. Police, Sheriff and the CHP encourage all motorists to help make your community safer: Report Drunk Drivers – Call 911 anytime you encounter a dangerous impaired driver.