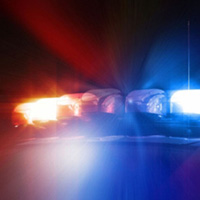 On Tuesday, March 25, 2014, at approximately 4:20 p.m. the California Highway Patrol received a call about a person swerving and almost colliding into other vehicle on U.S. 101 northbound north of Mariposa Reina. The vehicle turned around at Gaviota State Beach and headed southbound in an unsafe manner.
California Highway Patrol Officers positioned their fully marked black and white patrol vehicles behind a silver 2013 Toyota Corolla southbound U.S. 101 south of Refugio Road. Officers observed the vehicle drive in an unsafe manner and initiated an enforcement stop. The party in the Toyota Corolla failed to yield to emergency lights. The driver of the Toyota, later identified as Kathryn Elizabeth Lafazan of Santa Ana California, fled from pursuing CHP Officers.
The driver of the Toyota continued to disobey Officer directions over the public address system. An officer safely stopped the Glenn Annie on ramp and initiated a spike strip. All four tires of the Toyota were successfully punctured and the suspect pulled to the right shoulder on U.S. 101 southbound north of Los Carneros Road where the suspect was taken into custody. A DUI investigation took place after the arrest.