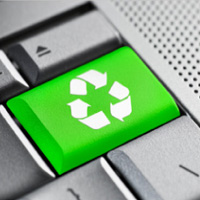 ECOSLO is hosting a community e-waste collection drive. Residents who drop off e-waste, such as inkjet cartridges, laser toner, and cell phones, will keep local landfills cleaner and raise money for a good cause at the same time. Each piece of acceptable waste donated to ECOSLO will raise money to help preserve and protect our environment.
Drop off e-waste (inkjet cartridges, laser toner, and cell phones) at the ECOSLO office at 75 Higuera Street, Suite 100 from 9:00am to 1:00pm. We are currently working on having other drop-off locations throughout the community for your convenience. ECOSLO has been inspired to make a difference, but we cannot do it alone. We need help and volunteers from the community in order to make the e-waste drive successful.
An estimated 350 million inkjet and laser cartridges and used cell phones are thrown away every year, so there are plenty of them available to be recycled. Any inkjet cartridge can be recycled, regardless of brand type: HP, Lexmark, Xerox, Compaq, Brother, Dell, Canon, and Apple.