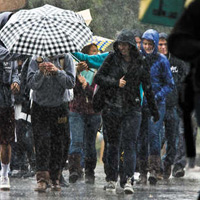 The San Luis Obispo County Office of Emergency Services is urging residents, businesses, and others to prepare ahead of time for the predicted storms soon to arrive in our county. With the potential for significant rainfall and strong winds Friday, we should be prepared for power outages, check roof drains to make sure they are clear, stockpile needed emergency supplies, double check to make sure radios and phones are fully charged, have back up batteries for portable radios, phones, and flashlights and otherwise get as well prepared as possible.
Anyone who thinks their home or business could be flooded should take precautions before a storm arrives. These precautions include obtaining sandbags ahead of time; many local equipment and feed and supply stores carry sandbags and an informal check this week indicates that most are well stocked.
Do not count on emergency response agencies such as fire departments or public works agencies to be available to assist during times of significant weather events, as they may not have the resources available for non-immediate emergency needs and may in fact have to prioritize responding to emergencies.