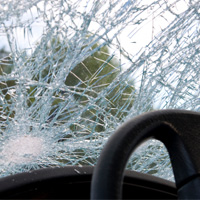 On Wednesday afternoon, a fatal traffic collision occurred on SR-154 westbound, just west of San Antonio Creek Road. The collision involved a Hyundai Sedan, which struck the embankment adjacent the dirt shoulder north of the roadway. The passenger side of the Hyundai collided with the front of a Lexus traveling westbound at the same location.
The Hyundai was facing southbound on the shoulder and the Lexus was facing westbound in the westbound lane when both vehicle came to rest. California Highway Patrol Officers, Santa Barbara Sheriff's Deputies, Santa Barbara County Fire Department, and Cal Trans personnel responded to the scene.
A Santa Barbara County Fire Paramedic confirmed the driver, the only occupant in the Hyundai, was deceased on scene. He is 31-year-old Michael Okerblom of Nipomo.
Both lanes of SR-154 were closed for approximately two and a half hours to investigate the collision. This will be an ongoing investigation. At this time it is unknown if alcohol or drugs were a contributing factor to the collision.