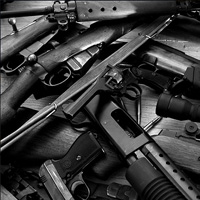 A convicted felon from the Cuyama area is in Santa Barbara County Jail after he was found to be in possession of several firearms. A woman called 9-1-1 from a home in the Ventucopa area last Tuesday at 4 a.m. to say she was being threatened by a man with a shotgun. The police did not find the woman, but did find the homeowner, 62-year-old Marc Steele.
Steele, a convicted felon, told police he had gotten into a disagreement with a female escort and her male chaperone over payment. He denied threatening the escort but admitted to having a shotgun. Police confiscated the shotgun and arrested Steele for being a felon in possession of a firearm. Later that day, police searched Steele's home and found another shotgun, three rifles, approximately 500 rounds of ammunition and a small amount of suspected methamphetamine.
Police are trying to find the female escort and her male chaperone that are reportedly from the Bakersfield area. If you have any information, call the Cuyama sub-station at 661-766-2310.