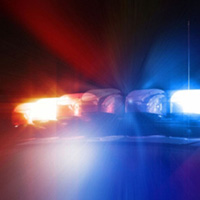 The San Luis Obispo Police Department responded to the report of an assault that occurred at the intersection of Chorro and Palm last night about 11:30. A passerby saw a female in distress on the sidewalk and stopped to help and phoned the police.
The female victim, age 21 of San Luis Obispo, was walking north on Chorro away from downtown when she was grabbed from behind. The male suspect pulled up the victim's shirt and grabbed her breasts. He then pushed her to the ground and got on top of her and tried to pull down her pants. The victim began screaming, which appeared to scare the suspect away. He ran south across Palm and into the parking lot behind the Palm Theater. A silver vehicle fled the area at the same time but the suspect was not actually seen getting into the vehicle.
The only description of the suspect is that he is male and was wearing a bulky hooded sweatshirt. There is also no additional description of the vehicle other than silver. The victim in this incident was not injured.
Anyone with information about this incident is asked to call the San Luis Obispo Police Department.
The Police Department would like to remind everyone to never walk alone at night and don't hesitate to report suspicious activity to your Police Department right away.