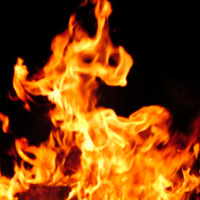 On Sunday, December 1 at 1:23 a.m., two companies of Paso Robles Firefighters responded to a residential structure fire at 125 San Rafael in Paso Robles.
Firefighters arrived at scene in three minutes to find smoke and fire coming from the attic of a single family residence. Firefighters simultaneously advanced fire attack hose lines into the home while cutting a ventilation hole in the roof with a chainsaw. The fire was contained at 1:39 a.m.

The occupants of the home were asleep at the time of the fire. Fortunately, one occupant smelled smoke and got up to investigate. He located the fire and alerted his roommate to the fire. Both were able to safely exit the home before firefighters arrived. Housing assistance is being provided to the occupants by the American Red Cross.

The residence did not have any functioning smoke detectors. Paso Robles firefighters would like to remind community members to install smoke detectors in all sleeping rooms and to replace smoke detector batteries twice a year at time change.

No firefighter or civilian injuries were reported. The cause of the fire is currently under investigation by Department of Emergency Services Fire Investigators.