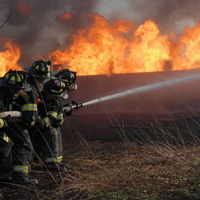 At 3:51 Friday afternoon, the Department of Emergency Services received a report of a vehicle on fire inside a carport. Two Paso Robles, one County Fire/CAL FIRE, and one Atascadero engine were dispatched. Two Battalion Chiefs and a San Luis Ambulance Service ambulance also responded. The first fire engine, arriving at 3:55 pm, reported heavy fire in a three-bay carport located beneath a second-story apartment.
The fire extended up the outside of the apartment and began burning in the attic prior to the arrival of firefighters. Firefighters quickly knocked down the main body of fire, opened a ventilation hole on the roof, and extinguished the burning attic. 13 firefighters were able to bring the fire under control by 4:23 pm.
The fire began in or near the single vehicle parked in the carport. The fire was discovered by 1st District Supervisor Frank Mecham. Supervisor Mecham called 9-1-1 and attempted to extinguish the fire. The tenant of the upstairs apartment evacuated prior to the arrival of Emergency Services.
This was a three unit apartment complex. While fire did not extend into the second floor unit, it suffered moderate smoke and water damage. The two other units were unaffected. Fire investigators remain on-scene in order to determine the cause.
There were no injuries as a result of the fire. No damage estimate is available.