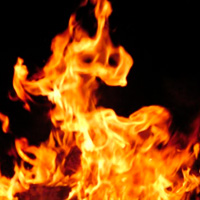 The Santa Barbara County Fire Department investigators have determined that the cause of the vegetation fire that occurred at 2400 block of Tepusquet Canyon Road on September 19, 2013, was attributed to a tractor working in the area.
With the assistance of Cal Fire, SBCFD investigators took possession of the tractor in question. The tractor was taken and stored at the SLO Cal Fire Investigation Office. Cal Fire stated that an expert examined the tractor and found it did not have the required spark arrester per state law. This is consistent with the fire origin and cause examination.
The official cause of the fire is hot exhaust from the tractor igniting the dried annual grasses. The tractor was being used for work in a vineyard and was a rental. Investigators have determined that if the tractor would have had the required spark arrester, the fire would not have started.
The Sheriff's Office credits the owner of the vehicle for using a vehicle theft tracking system. After-market services like LoJack allow law enforcement to track vehicles that are stolen and return them back to their owners.