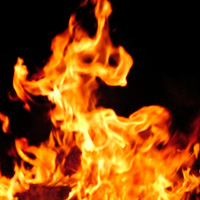 Three fires occurred in the Central Coast yesterday. A fire consumed an empty two-story Lompoc home at around 9 a.m. Firefighters had it under control less than an hour later. One firefighter suffered minor injuries, but is back on duty.
The home has been deemed unlivable. Another fire caused around $100,000 in damage at a Pismo Beach business yesterday morning. The fire started at approximately 9:19 at Sam's Giant Manhattan Pizza on North Oak Park Boulevard. The fire was under control a little over an hour later.
There were no reported injuries, and the cause of the fire is being investigated. The third fire occurred in a Nipomo home on Easy Lane. The fire was contained to the garage but caused $250,000 in damage. The cause is under investigation.