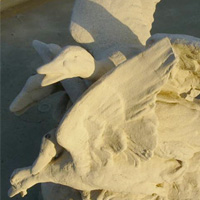 The City of Atascadero was disappointed to find that one of the duck figurines, part of the Historic City Hall Fountain Restoration Project, was vandalized Monday night. A wing on one of the figures was snapped off and found in a nearby landscaped planter.
The four fountains and sculptures were fully restored with the Historic City Hall Project, and were funded completely by local fundraising efforts that included donations and selling engraved bricks, as well as the acquisition of State Historical Preservation Grant funds.
The sculptures within the fountains, while made of reinforced concrete material, are intended as works of art and not as play structures. The restored figures are extremely delicate and are not capable of withstanding even small children standing or climbing on them. The water-filled fountains are off-limits to swimming, wading, or horseplay. The public is again asked to please enjoy the works of art but to show respect for the history and value of the fountains by not touching the white figurines.
It has been reported that a dog-owner with a large dog was recently seen near the area; the owner was reportedly throwing an object near the fountain for the dog to "fetch". It is possible that the damage occurred from the thrown object, or from the dog jumping into the fountain to retrieve the object. The public is asked to stay vigilant of individuals in or around the fountains, and to call Police at 461-5051 if anyone is seen acting inappropriately around the fountains.