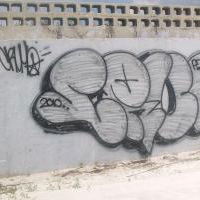 Since October 11th, officers with the Morro Bay Police Department have investigated 24 calls of graffiti vandalism that have primarily occurred on the north east side of Morro Bay. This is a sharp increase from previous months. The graffiti has been found mainly on public property and businesses; however some residential structures and vehicles have also been affected.
The investigation thus far has determined that most of the graffiti is similar and therefore likely the same suspect or suspects involved. Much of the graffiti contains the letters "JM" and a crown insignia. Officers are following multiple leads to uncover the identity of the offender(s). Officers believe that the graffiti is not gang related and is most likely juvenile activity; however nothing has been ruled out at this time.
The Morro Bay Police Department is asking for the public's assistance in helping to identify and prosecute the offender(s) for their defacement of our community. If you find graffiti anywhere within the city, please call the police department at 772-6225 immediately, and do not remove it until personnel with the police department can investigate and document the occurrence.