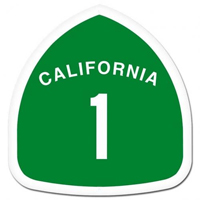 Highway 1 Bridge and Rockshed at Pitkins Curve (post-mile 21.5) is complete and open to traffic, Caltrans officials announced yesterday.
The ¼ – mile long project limits extends from just north of Limekiln Creek Bridge to south of Lucia. The project includes a rockshed, a bridge and a retaining wall.
Some of the most significant benefits of this project include:
Greatly reduce motorists' encounters with a falling rock and/or a land slide.

Greatly reduce any period of closure of the highway at this location due to a major slide.

The cost of maintaining this stretch of highway will be significantly less as a result of this project.

The drive/ride will be more pleasant than it was before (smoother ride, unique structures, more impressive view).

The rockshed is the only roadway structure of its kind in the country.
"We are excited to celebrate the completion of this sensational project," said District 5 Director Tim Gubbins. "It features an iconic bridge and rockshed that will ensure safe passage for motorists and cyclists year round."
The contractor for this $39 million, four-year project was Golden State Bridge Inc. of Benicia, CA.