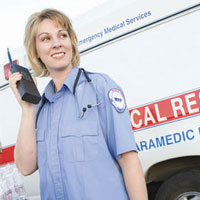 Emergency personnel from Cal Fire, San Luis Obispo City Fire Department, CHP Air Ops, the SLO County Fire Urban Search and Rescue Team, and San Luis Ambulance responded to a medical aid/rescue on Bishop Peak at 9:25 pm on August 15th.

Responding personnel located the 19-year old male patient on a steep rocky section of the Foothill side access trail just below the main trail on the south west side of the peak. He had sustained a fracture to a lower leg after falling on the steep section of the trail while hiking in the dark, and was in severe pain.

The firefighter/paramedics were able to hike up to the injured victim's location, provide advanced life support emergency medical care, and package the patient in a stokes basket for a lowering operation down the mountain. The injured hiker was then transported to Sierra Vista Medical Center by San Luis Ambulance personnel.