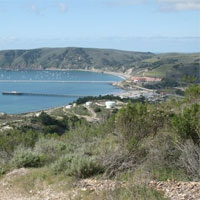 Major changes are happening at a popular hiking trail that crosses through Pismo and Avila Beaches. The Ontario Ridge, that some say has the most beautiful vistas in the county, has been closed to the public at two of its three access points, and hikers are left wondering where they can go.
Pismo Beach city officials said they put up no access and no parking signs at the Shell Beach Road entrance of the Ontario Ridge because the city is mandated and required to keep the fire access road in the area clear. The fire access road runs behind El Portal Road.
Some hikers throughout the years, however, have blocked the fire access road by parking there to start the Ontario Ridge. Officials say that if hikers pass the no access signs at the Shell Beach Road entrance to the trail they will be technically trespassing. Hikers can still access the ridge trail from El Portal Road.