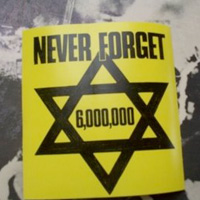 A Holocaust survivor and the grandchild of Holocaust survivors will headline the Holocaust Remembrance Day memorial program tonight at Congregation Beth David at 7:00. Today is Yom HaShoah, or Holocaust Remembrance Day, a day that commemorates the six million Jews and five million other people that died in the Holocaust.
The program will feature Ruth Cairns Baker, who will tell her story of how she escaped Vienna and Daniel Deitch, a Cal Poly student, will talk about being the grandchild of two Holocaust survivors and the importance of carrying on their stories. There will also be teachings from local rabbis, music performed by local musicians and a candle-lighting ceremony led by local teens.
The Holocaust Remembrance Day Program is jointly organized and supported by area Jewish institutions, including Congregation Beth David, Congregation Ohr Tzafon, the JCC-Federation of San Luis Obispo, and Temple Ner Shalom.