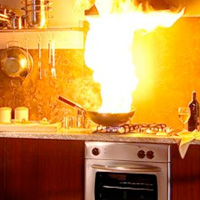 The San Luis Obispo Fire Department says one woman was displaced after a kitchen fire broke out last night. It happened around 7:35 p.m. on the 1300 block of Foothill Boulevard near Cal Poly.
Fire investigators say the woman was cooking chicken when she turned her back to the stove. That's when the grease in the pan flashed and caught the cabinets above the stove on fire.
The flames were contained to just the kitchen. But, firefighters say the woman will not be able to live inside her apartment for at least a couple months.