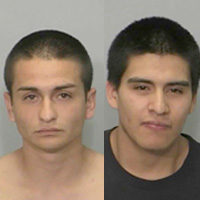 The Paso Robles Police Department successfully concluded a week long investigation into a series of related crimes which investigators ultimately determined were committed by three local gang members. Detectives with the Special Enforcement Team, with assistance from the San Luis Obispo County Probation Department, were able to identify and arrest 20 year old Arturo Montoya of Paso Robles, 19 year old Francisco Martinez of Paso Robles and one juvenile were charged with robbery, criminal conspiracy and attempted murder among other charges.

The investigation began on August 22 when a victim reported being assaulted by three Hispanic males while sitting in his vehicle along the 300 block of Spring Street. He reported three suspects confronted him and asked if he was a gang member and then suddenly began punching him in the face. One suspect pulled out a knife during the assault, but the victim fled in his vehicle and did not sustain a significant injury.

Later that same day about 10, patrol units were dispatched to the 800 block of Oak St. for the report of an assault and carjacking – with the suspects matching the description of the earlier reported assault on Spring Street. Upon arrival, Officers contacted the victim who reported that he had been approached by three Hispanic males asking for a ride in his vehicle. The victim agreed and drove the suspects to the 800 block of Oak Street where the three suspects asked the victim to stop. Upon exiting the vehicle the suspects began attacking the victim. One of the suspects pulled a knife on the victim and starting yelling gang epithets. During the assault the victim sustained a slash wound to the face, a puncture wound to the right arm, and a puncture wound to the chest. None of the wounds were life-threatening; however, after the assault the three suspects stole the victim's vehicle and fled the area. The victim's vehicle was later recovered in Paso Robles.

On August 24 at approximately 8, two male juveniles were confronted by three Hispanic males along the 400 block of Oak Hill, who robbed the victims of their property. The three suspects assaulted the two juvenile victims by striking them with a rock and possibly a stick or log. The two victims were able to flee the scene; however the suspects robbed the victims of a MP3 music player, a skateboard, and a hat. The juvenile victims did not receive significant injuries as a result of the attack.

The SET Detectives interviewed the victims, witnesses, and utilized confidential informants to identify the suspects. Ultimately, Detectives located the suspects with the aid of San Luis Obispo County Probation Officers and made the arrests, clearing all three cases. The SET detectives are working with the San Luis Obispo County Sheriff's Gang Task Force and the San Luis Obispo County District Attorney's Office to pursue gang enhancements on all three suspects.