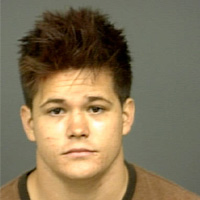 San Luis Obispo Police and Fire Departments received a 911 call after a resident was wakened to find an individual identified as 21-year-old Matthew Fauria inside the residence. Fauria was unknown to the 911 caller and was bleeding heavily. Fauria was transported to a local hospital to be treated for his injuries.

While Fauria was being treated, officers conducted an investigation. Officers at the scene followed a large blood trail left by Fauria. It was determined he sustained a laceration to his arm when he punched out a window at a house on Broad Street after a night of heavy drinking. Fauria walked several blocks up and down Broad, Mission, Almond and Chorro Streets entering or attempting to enter a total of 24 cars and two houses. FAURIA left a significant amount of blood behind as he traveled. During his walk FAURIA left several large puddles of blood on City sidewalks which were beyond the capability of the Fire Department to wash down. A local hazardous materials clean-up contractor responded to clean the blood hazard left on city property.

A significant amount of damage was caused as a result of Fauria entering these locations while depositing a large amount of blood to the interiors.
After receiving treatment for his injury, Fauria was arrested for multiple counts of felony vandalism and two counts of burglary. He was booked at the San Luis Obispo County Jail and his bail set at $50,000.