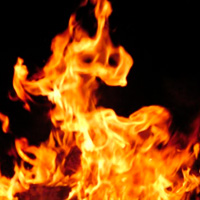 San Luis Obispo City Fire Department personnel responded to a reported structure fire at 1185 Foothill Road #11 in the City of San Luis Obispo at 3:42 yesterday morning. The first SLO City Fire Department unit arrived within 4 minutes of being dispatched and found heavy smoke showing from the second and third story of an approximately 1000 square foot single-family condominium residence. The fire was located on the second floor of the residence and confined to the living room area and being suppressed by the sprinkler system activation.
Three adult occupants were able to successfully evacuate from the involved residence, and relayed to dispatch and units on scene that a male resident was trapped inside. The first arriving unit performed a rapid primary search and located the victim on the second floor and affected a rescue to the outside of the structure where he was treated by Fire Department Paramedics, and transported to Sierra Vista Hospital by ambulance and later released. The SLOFD Truck Company, simultaneously performed ventilation on the roof of the structure aiding in removing the toxic smoke and gases thereby increasing the victim survivability profile, as well as assisting the rescue operation by improving visibility for the interior crew. The remaining fire was quickly extinguished with a single hose line, confining the fire to the living room area only, and sparing significant damage to the rest of the structure and adjacent units. Control was achieved within 20 minutes of the initial 9-1-1 call.
No injuries occurred to the firefighters. The loss/damage to the structure and contents is estimated at $25,000. According to Fire Marshal Roger Maggio, the fire started in the living room. The cause of the fire is under investigation, but initially appears accidental in nature. The condominium unit is currently red-tagged as unsafe to occupy.