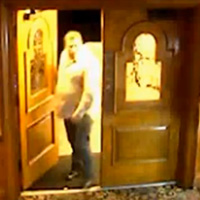 On February 8, at 11:47 p.m. a subject entered the Madonna Inn Coffee Shop and stole a chocolate cake from the display case. Security cameras captured the burglary and the owner of Madonna Inn, Connie Madonna-Pearce posted the security video on Facebook. She asked that anyone who recognizes the suspect to please call the Madonna Inn. A Facebook user did recognize the suspect and called the Madonna Inn. The Facebook user identified the suspect as Shea Martin to Pearce-Madonna.
A San Luis Obispo Police Officer then obtained a recent county jail booking photo of Martin and compared it to the cake burglary video. The officer was able to positively identify Martin in the video and learned that he lives in Morro Bay. The officer asked the Morro Bay Police Department to go to Martin's residence and attempt to make contact with him regarding the burglary. When the officers arrived at the residence Martin fled out the back door. A short time later, Martin called the San Luis Obispo Police Department and talked with the officer that was investigating the burglary. Martin told the officer that he did take the cake from the Madonna Inn.
Martin initially agreed to come to the San Luis Obispo Police Department to talk to the officer but he later called and stated he would not be able to make it in. A few days after the theft, an unidentified female went to the Madonna Inn and paid for the cake.
Connie Madonna-Pearce contacted the police department and expressed that the Madonna Inn no longer wanted to pursue charges against the suspect, Shea Martin. The Madonna Inn has been paid for the cake and they want to consider the incident closed. The police department will not be sending the report to the District Attorney's Office.