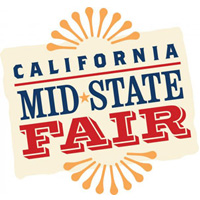 The California Mid-State Fair is proud to report another exceptional year, with solid numbers and increases in many areas. For the third consecutive year, over 400,000 people attended the Fair, coming from throughout California to enjoy one of the largest fairs in the State. Vivian Robertson, CEO, said, "Once again this year I feel very blessed to finish with such solid numbers. Our top priority is to provide a safe and fun environment, and we accomplished this goal with the tremendous support of our volunteers and staff."

Of particular note were the increases in the Jr. Livestock Auction and Replacement Heifer Sale, which saw an increase for the fourth consecutive year. "The 4-H and FFA program represents the culmination of months of hard work and is a key benchmark as we strive to preserve and promote agriculture," said Robertson.
Final, un-audited numbers are as follows:
2013 2012
Total Attendance 411,511 410,905
Concert Attendance 67,715 67,561
Concessions $1,051,378 $1,039,816
Carnival $500,000 $500,000
Jr. Livestock/Heifer $2,100,517 $1,761,135

The 2014 California Mid-State Fair will run Wednesday, July 16th through Sunday, July 27th.