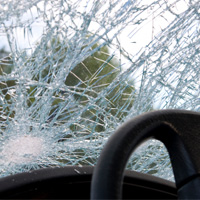 The names of the people involved in a Santa Barbara crash on Highway 101 South, north of Castillo Street, at 12:45 yesterday morning that left three people dead, one injured, and one under arrest Monday have been released.
California Highway Patrol reports that Danielle Nicole Murillo, 17, and Jessica Lee Leffew, 17, both from Torrance, and Brian Adonay Lopez, 20, from Los Angeles were passengers in a 2005 Mazda driven by Erick Hoel August, 20, from Los Angeles when it flipped and landed on its roof after hitting the guardrail. Murillo, Leffew, and Lopez were killed and August was in critical condition at a hospital.
Shortly after the crash, Kimberly Ann Kreis, 52, from Santa Barbara, was arrested on suspicion of DUI after she crashed her 2013 Ford Mustang into the Mazda. She sustained minor injuries. Ventura County records show that Kreis has at least one prior conviction involving drugs or alcohol, and in 1995 she was ordered to serve 30 days in a Cottage Hospital detox program. CHP investigators are still trying to determine why the Mazda veered right into the guardrail.