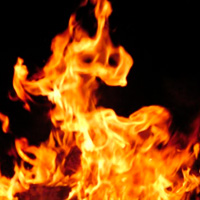 On Sunday at 4:11 PM, two companies of Paso Robles firefighters and one Battalion Chief responded to a wildland fire in the Salinas Riverbed near 50 Niblick Road in Paso Robles. Firefighters were initially sent to check for smoke in the area; first arriving units determined that approximately one acre of brush was on fire in the riverbed. Firefighters completed a progressive hoselay from the nearby shopping center to surrounded the fire. The fire was declared controlled at 4:49 p.m.. No structures were damaged by the fire and no injuries were reported. Firefighters will remain at the scene for several hours completing mop-up.

The cause of the fire is currently under investigation by Department of
Emergency Services fire investigators.