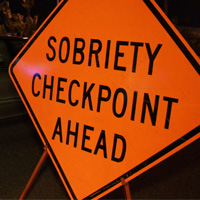 The Paso Robles Police Department will hold an "AVOID the 14" DUI/CDL traffic enforcement checkpoint Saturday, December 28, from 6:00 p.m. to 2:00 a.m. in the City of Paso Robles.
All too often, members of our community are senselessly injured or killed on local roadways by impaired drivers. The goal of the checkpoint is to make the roadways safer for everyone by removing/arresting intoxicated drivers. Other objectives of the checkpoint will include enforcing traffic safety laws related to driver's licenses or other serious criminal activity. A major component of these checkpoints is to increase awareness of the dangers of impaired driving and to encourage sober designated drivers.

A DUI checkpoint is an effective method for achieving this goal. By publicizing these enforcement and education efforts, the Paso Robles Police Department believes motorists can be deterred from drinking and driving.
Traffic volume and weather permitting, all vehicles may be checked and drivers who are under the influence of alcohol and/or drugs will be arrested. Our objective is to send a clear message to those who are considering driving a motor vehicle after consuming alcohol and/or drugs – Drive Sober or Get Pulled Over. The public is encouraged to help keep roadways safe by calling 911 if they see a suspected impaired driver.

San Luis Obispo County Law Enforcement Agencies are joining a nationwide impaired-driving crackdown this holiday season to stop impaired driving and to save lives in San Luis Obispo County.
According to the National Highway Traffic Safety Administration, 32,367 people were killed in motor vehicle traffic crashes in 2011. 9,878 of those fatalities involved an alcohol-impaired driver. Alcohol impaired deaths make up the largest category of overall vehicle fatalities.