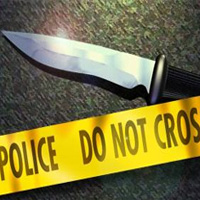 The Santa Barbara County Sheriff's Office is requesting the public's assistance to help locate a suspect involved in a stabbing that occurred around 4:00 yesterday afternoon, in the 1500 block of Highway 154. The suspect is 47 year old Gabriel Nicolas Rivera of Santa Barbara who has had several contacts with law enforcement and was most recently booked at the Santa Barbara County Jail on a probation violation in January. The two male victims, who were acquaintances of the suspect, were taken to a local hospital and treated for their injuries.

The stabbings followed a verbal dispute that occurred among the three individuals involved. When Sheriff's Deputies responded to the scene, they located the victims in a black pick-up truck along Highway 154 and the search began for the suspect. Deputies secured the perimeter and brought in a specialty K9 unit and Santa Barbara County Air Support Copter 2 to assist in searching the residential area. Despite the extensive search the suspect was not located.

Rivera was last seen wearing brown or yellow shorts, hiking boots, no shirt and an eye patch. If you see Rivera you should immediately call 911. If you have any information regarding his whereabouts or the crime that occurred, you are asked to call the Santa Barbara County Sheriff's Criminal Investigations Division at (805) 681-4150.