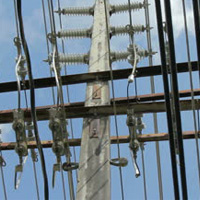 On Monday, March 10 at 5:57 PM, Paso Robles firefighters responded to power lines down in the area of 2nd and Vine Street. Firefighters arrived to the scene to find a live power line down on 2nd Street between Vine and Olive Streets. Firefighters and Paso Robles Police Officers immediately closed streets in the area. Firefighters monitoring the downed power line deployed in the area of the 200 Block of Vine Street extinguished a small grass fire.
The energized power line was blown into the residence at 209 Vine Street by the wind; the electrical line energized the gas line serving the residence starting a small structure fire. Firefighters quickly extinguished the fire but were unable to secure the gas service to the residence due to the energized electrical line.
Given the natural gas leak and live electrical line Unified Commanders from the Fire and Police Departments elected to evacuate residents from the area.
Police officers immediately evacuated residences on Olive Street to Vine Street between 2nd Street and 4th Street. Firefighters with charged fire hose lines were deployed in the area around 209 Vine Street. After PG&E terminated the power, firefighters were able to secure the gas service to mitigate the hazard. Residents were allowed to return to their homes at approximately 7:20 PM.
Damage to 209 Vine Street was limited to an interior wall and heating unit. No firefighter or civilian injuries were reported.