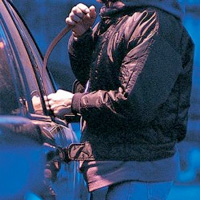 On March 27 at approximately 345 a.m., Officers were patrolling in the area of Pereira and Madonna Road for criminal activity focusing on car burglars. During the past several nights there have been reported vehicle burglaries in the area.
Officers were driving southbound on Pereira when they observed several dome lights on in vehicles parked on the street. Officers noticed a male walking in front of them approximately 100 yards away. The male noticed the patrol vehicles headlights and started running.
Officers caught the subject in the 11000 block of Los Osos Valley Road. An investigation revealed that the subject who fled was a juvenile in possession of stolen property. The recovered stolen property was removed from vehicles in the neighborhood.
A search of the suspect's house was conducted. Inside the residence was more stolen property. This property was determined to be stolen from prior reported thefts. The juvenile was booked in to San Luis Obispo Juvenile Services Center and charged with possession of stolen property and theft. The investigation is ongoing to determine if there are additional victims.