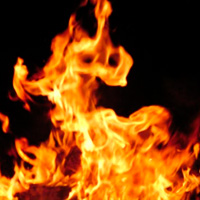 On Tuesday, November 5, at 7:20 a.m., two companies of Paso Robles Firefighters and one Battalion Chief responded to a residential structure fire at 812 Experimental Station Road in Paso Robles.
Firefighters arriving at scene found a vacant single family residence well involved in fire. The fire had burned through the roof prior to firefighter arrival.
Firefighters initiated defensive fire attack from the exterior of the
building and declared the fire under control at 7:47 a.m.. No adjacent
structures were damaged by the fire.
Fire investigators determined that the residence was vacant and in the
process of being demolished at the time of the fire. No firefighter or civilian
injuries were reported. The cause of the fire is currently under investigation
by Department of Emergency Services fire investigators.