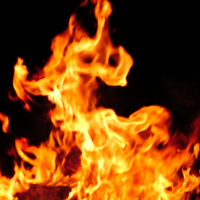 This morning at 12:32 a.m., two companies of Paso Robles Firefighters and one Battalion Chief responded to a residential structure fire at 842 Red Cloud in Paso Robles.
Firefighters arrived on scene to find the single family residence at 842 Red Cloud fully involved in fire and the fire extending to the residence at 844 Red Cloud. Firefighters advanced fire attack lines to the exterior of 842 Red Cloud and the interior of 844 Red Cloud to stop the spread of the fire.
Additional firefighters were assigned to attack the fire from the rear at 823 Crazy Horse Court. The fire was declared contained at 1:29 a.m.
The occupants of the home were able to evacuate the residence when they noticed the fire. Housing assistance is being provided by the American Red Cross.
No firefighter or civilian injuries were reported.
The cause of the fire is currently under investigation by Department of
Emergency Services Fire Investigators.