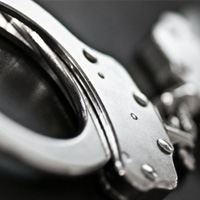 On March 4, around 1:00PM, the drivers of two pick-up trucks were involved in a road rage incident on US-101 in the Montecito area. The incident began when one of the trucks was following too close and the driver got upset the slower truck would not move out of the fast lane. That driver pulled up beside the other driver to express his displeasure. What began as a verbal banter between the two, escalated as the vehicles neared Santa Claus Lane, when one of the drivers, Ryan Luna of Simi Valley, threw a "supersized" soda into the passenger window of the other truck, striking the truck's passenger in the face and causing soda to be spread throughout the front of the truck.
Five to ten seconds later, the other driver, Joseph Antonucci of Santa Barbara, retaliated by crashing the right side of his truck into the left side of Luna's truck. Luna swerved off the freeway on the Carpinteria Avenue off ramp, nearly colliding into the exit sign as he did so. Antonucci was unable to exit due to his speed and lane location and continued southbound.
A witness who had been watching the events unfold called 911, spoke with California Highway Patrol dispatchers, and began relating the information to them. Unbeknown to her and to the subjects involved, the occurrence was also witnessed by California Highway Patrol, Coastal Division Chief Reggie Chappelle, who was driving an unmarked patrol vehicle at the time.
Chief Chappele allowed Antonucci's vehicle to pass him and though delayed by the construction zone, ultimately stopped Antonucci at Mussel Shoals. Officer Brian Barriga, #17140, of the Santa Barbara CHP office responded to both scenes and after investigating the circumstances, arrested both drivers as a result of their actions.