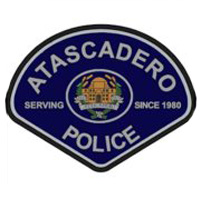 This past Monday about 7:30 p.m., officers from the Atascadero Police Department responded to Stagecoach Liquor on 5145 El Camino Real regarding a robbery that had just occurred. The suspect entered the store jumped over the counter and brandished a knife. The suspect ordered the clerk to open the cash drawer. When the clerk was unable to open the cash drawer, the suspect struck the clerk several times with his fists. The suspect fled the store with the entire cash drawer. Officers were told that a white four door compact vehicle was possibly related to this crime.

Just after midnight, an APD sergeant located a white four door compact vehicle that was parked at Motel 6, 9400 El Camino Real. A computer check revealed the vehicle was reported stolen in Paso Robles on the previous day. That vehicle was stolen during a carjacking where the victim was forced out of their vehicle at knifepoint. The suspect from the Paso Robles carjacking was further identified as a Hispanic male with tattoos on his face. Officers located evidence in that vehicle that linked it to the store robbery.
Investigators continued to monitor this area; however, no suspects were located.

Yesterday, at 9:45 a.m. an APD officer saw two subjects, one matched the description of the carjacking suspect. The two subjects were detained. Soon thereafter, the victim from the Paso Robles carjacking positively identified one of the suspects. The other subject had a car key that was positively identified as belonging to the previously stolen and now recovered Nissan sedan. He was also in possession of a concealed weapon.

Officers contacted several other subjects at Motel 6. A juvenile was arrested for a warrant and another adult was arrested on a probation violation.