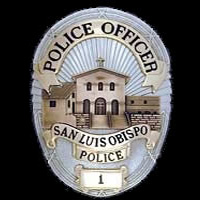 The City of San Luis Obispo Police Department has launched a Neighborhood Officer Program that divides the city into 13 distinct "neighborhoods", each with dedicated patrol officers assigned to address city neighborhood issues. The Neighborhood Officers will act as a liaison between the Police Department, the community, and a variety of city agencies. The Neighborhood Officers will assist with public education, crime prevention, and neighborhood specific problems and help with coordination of other city services and departments to ensure a professional response to the citizens of San Luis Obispo.

Officers will also be expected to seek out and identify issues, with solutions, within their assigned neighborhood. The Neighborhood Officers will be responsible for tracking neighborhood problems and crimes that affect the overall quality of life in a neighborhood especially those which require repeated patrol response.

"This program is one of multiple initiatives intended to increase SLOPD's connectivity with the community we serve. The neighborhood officer program is especially important as it offers residents and business owners a personal option when police assistance is needed and an immediate response isn't needed. For our officers, it provides an opportunity to take ownership in their 'neighborhoods', ultimately increasing our ability to make a positive impact throughout the City" says Steve Gesell, SLOPD Chief of Police.

This model of policing is both a philosophy and an organizational strategy that allows police and community residents to work closely together in new ways to solve the problems of crime, fear of crime, physical and social disorders, and to prevent neighborhood decay. This program was realized within the existing staffing model with no additional personnel costs.