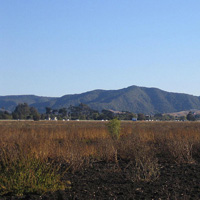 The Dalidio property is shedding its old identity as new vision takes shape for this long contested planning area. Preliminary plans for the proposed project – which has been renamed San Luis Ranch – were submitted to the city recently.
At last night's meeting, the City Council supported recommendations from the Planning Commission and the Land Use and Circulation Elements Task Force for a new mix of land uses that call for increased housing. This is a departure from the current general plan designation that focuses on regional commercial development.
Preliminary developer plans for the 131 acre ranch include a new residential neighborhood with as many as 500 homes with a range of housing types; up to 200,000 sq. ft. of commercial space; up to 150,000 sq. ft of office space; a 200 room hotel with conference facilities; agriculture land and open space along with an agriculture learning facility.
A study session with planning commissioners and the City Council as well as community input sessions are currently being scheduled.